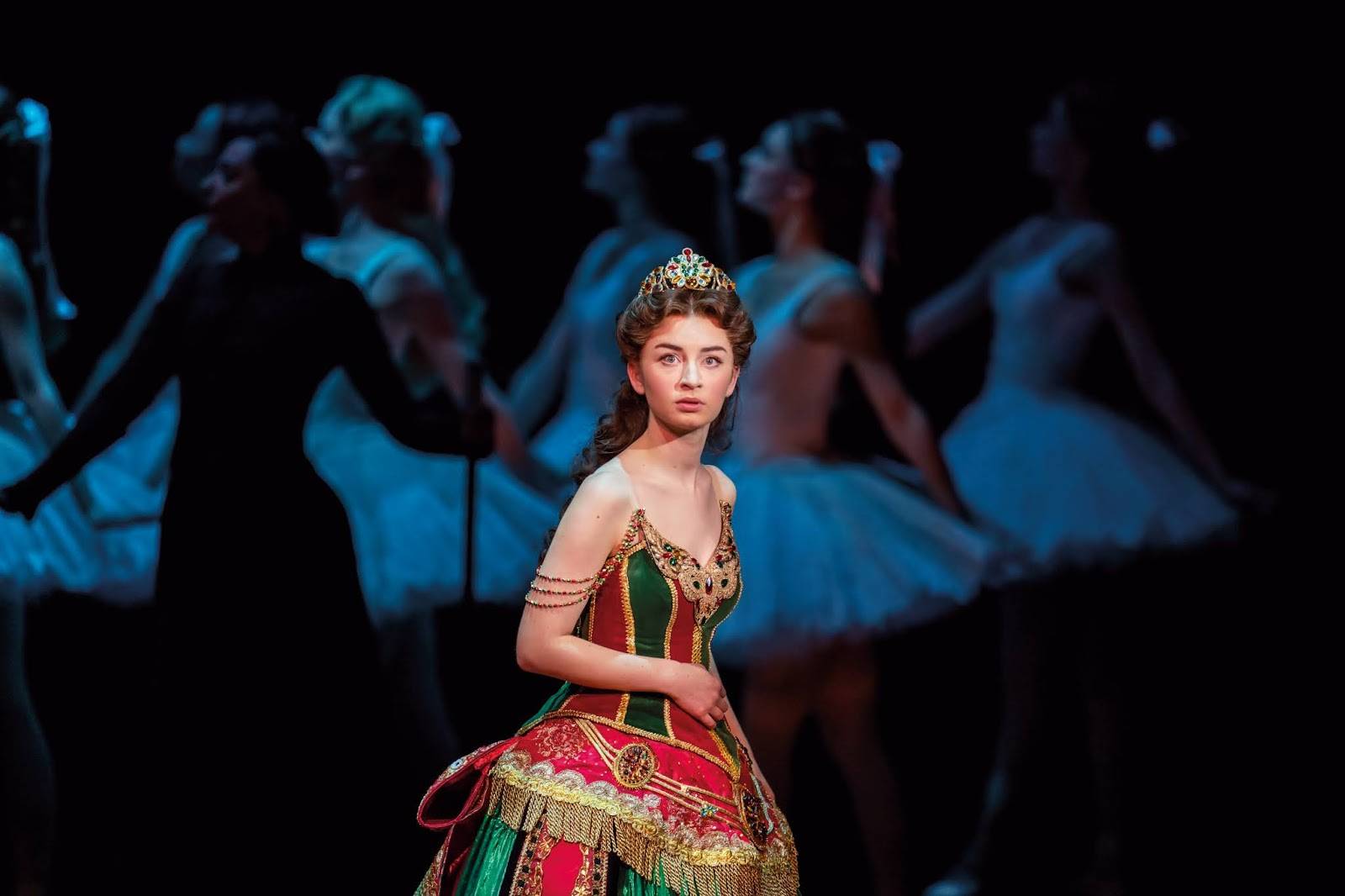 Holly playing Christine Daae in the UK tour of The Phantom of the Opera. Photo Credit: Johan Persson
How was it going from Phantom, to lockdown? How are you finding everything?
It's strange – I do feel like the 'Phantom thing' never really happened?! It's so sad - but it was the shortest moment of my life! The whole lockdown just felt so long, as it did for everyone, it just feels like such a distant memory now!
If I think about opening night, and rehearsals and things… when was that?! It feels like years ago. Because I was only just getting started, I was kind of in a mindset of panic and stress, with it being my first lead role, and I was very nervous for a lot of the time, so I think that's left a bit of a blur over the memory of it.
Then lockdown hit, just I was settling in and enjoying myself and then it was over! We didn't even properly open, we only did our previews. It's just such a distant memory.
So Phantom was your first lead – how did you get started and get into performing in the first place? How did that journey start for you?
When I left drama school, I got an agent - to be honest, I wasn't overly happy with that agency! I basically spent the first six months with them, and although I got some great jobs working with them, it just wasn't the best click for me.
Ah that's such a nightmare – and your first people to sign with out of drama school! I guess you had that feeling of, is this what it's supposed to be like?!
Exactly! I did the Copacabana UK tour – which was AMAZING, I loved it! I did 6 or 7 shows, but then unfortunately that show folded, and that's when I realised, I have to find some new opportunities. I did a Panto, which was also really fun.
I then got into Loserville at the Union Theatre which, to this day I think it is the coolest thing I have ever done, I literally loved it! It was in-front of about 50 people. It had this cool high school vibes, very young and fun atmosphere. This was the gamechanger for me as it presented the opportunity to move to a new agency.
The lead role, Luke Newton, had his agent in the audience at the time – and they essentially signed me up! My new agent got me Les Mis and the rest is history really. It's crazy how it all worked out – it looks like it all went smoothly but there were a lot of ups and downs, a lot of unemployment and so on. I actually did Loserville twice! The first-time round was brilliant, then there were 8 months of unemployment, and then they asked the entire cast back a second time round – but everyone had got a job but me. I was the only one from the previous cast that came back!
I know you said you came straight from drama school to the agency, so I wanted to ask, how did you find drama school?
I loved my training! I auditioned for GSA, Mountview and ArtsEd, and I was determined that I was going to get into one of my top three schools. I didn't get into any of them! I got onto the reserve lists for Mountview. Hilariously, I sung Phantom for GSA and didn't get in! I was devastated because in my head, I had it set in my brain where I really wanted to go. Looking back, I'm grateful I didn't because I ended up going to LSMT, which is just one year, and it was the best year ever. It worked out very well in the end!
I really believe that when you are applying for drama schools, you know when you walk in the room if it's going to be the right one for you. At LSMT I got this sense of family, belonging and support – it wasn't super competitive, which some of the other schools did seem.  I'm also not sure how long I would have lasted on a three-year course in the end! At school, I wasn't very good at staying in one place very long, and when I feel ready to move on, I'm ready to move on! Three years might have been too much for me.
I know we have a lot of people following us who will have the same feelings/thoughts towards drama school – adamant they have to go, adamant they have to get in to their first choice. So, it's good to hear that you had this experience and it still worked out so well!
Absolutely! You don't HAVE to go to Drama School and you definitely don't have to go to your top choice. A lot of my most talented friends didn't even train! Born with a gift! I must admit, I was heartbroken when I wasn't getting into my top schools – but look how it worked out.
My top piece of advice - if you don't get in, just keep going and audition elsewhere and try again. It's not the be all and end all. But if you can find it in you to keep going, you will find the place for you and you will get in somewhere.
I feel like there's such a strong expectation when you're younger – at school and in training etc – that you will turn 18 and go straight off to Drama School. And then when you don't, you start questioning everything! Did you have the same experience?
Absolutely! To be honest, if you went to a 'normal school' like me, you were the 'singer' in the year. Everyone would be like 'Holly's going to be a singer when she's older and she's going to get into drama school'.
So then when you get to drama school, or even just to the auditions - you realise you're not the only singer anymore, you're not the best one, everyone is a singer! And it's really strange! You're no longer the star. That hits hard. I have a lot of students that I teach that are also auditioning and are going through the same thing – just utter shock when they don't get in this year. It's brutal – there are thousands of us!
It happens when it's the right time for you, right?
Yeah that's what so cool about musical theatre, too! There is literally no age limit in musical theatre. Go and watch a show, every type of person is there! Go get your degree first or go try another hobby or another job if you want to – it's never too late to start your musical theatre journey.  
We've had a question from the audience about support from your parents – did you find that your parents helped you on your journey?
I had really supportive parents, my Mum is my biggest fan in the whole world! And my Dad. I went to this Sunday training school called West End Kids. Every Sunday, my Mum or Dad would drive me up there and wait in the café upstairs for 8 hours! They didn't even go off for the day, or get up to anything, they would literally sit and wait for 8 hours on their weekend. I never really realised at the time. Don't get me wrong, they weren't pushy parents, but they never said 'no' to any of my ridiculous dreams that I had.
On top of that, I was so bad at school. I just didn't do the work that was needed and that's something I really regret – I just wanted to leave and get started on my singing. My parents would say, 'Holly, you can't just rely on your singing'. That is the one thing I would say, have an equal balance and make sure to get your work done and have that backup plan.
That's something we speak about quite a lot at The Lovie Diaries – making sure you have other hobbies, businesses, skills that you can rely on. It doesn't mean you're not going to be a singer etc! It's just good to have something on the in the downtime.
Every single musical theatre performer has a side thing. I have my band. It's great to have something else that you absolutely love – teaching, art, photography. Side hustle is essential!
Tell us about your experience on Camp Rock!
So, when I was like 13, I was on the Disney Channel for a show called 'My Camp Rock' – they essentially wanted to do the UK version of Hannah Montana. It was a big competition, Demi Lovato was there. The stylist hated me, she gave me this horrendous pink eyeshadow, which I never lived it down at school - it was the bane of my life having those pink eyelids!
I won the competition, signed with Disney and had this amazing year and experience – and then they just dropped me. I walked back into Maths a year later, like, 'it didn't work out'. I was about 14. I won't lie, that was a tough time afterwards.
How do you keep your energy up for intense performers, with so many back-to-back shows?
For Phantom, it was easy. I was the happiest person on the planet. I adored every single moment of that show and I had the best time in the world.
We only did 13 shows before lockdown, so I don't think we reached that point of 'ugh, 8 shows a week'. But in terms of stamina and physically, I was starting to feel so tired and exhausted in the last few shows. Les Mis was the same, I did that for a long time – I'd be on the barricade thinking about how I was going to get the fast train home, or what I'd grab for dinner.  
Then I had this experience that changed that mindset - I was at Stage Door one time and this woman said, 'I've come to watch Les Mis this night every single year, because my husband died, and this is the show that is my release and my anniversary for his death.' I realised then how important this show is for so many people, not just the people on the stage. I have to adopt that mentality and it helps me keep going.
That is definitely the reality of it as well though, you're doing a job! Do you find that there are moments sometimes where your mind might go elsewhere and then you realise where you are?!
Yep! I've blanked before and forgotten my lines, and there is honestly nothing scarier. No one is there to save you. You have to find them yourself! It actually happened to me in Phantom. To get out of it, I sang in French! I didn't sing in English. It happens to me a lot, there's a lot to remember when you're up on that stage!
Do you struggle with nerves and if so, what do you normally do to overcome that?
Yeah, I really do. My first thoughts when I got the Phantom role were, 'They've made a mistake'! Hahaha. But yes, until opening night I would think that I could potentially be replaced. My nerves started to slow down as I started to finally believe I belonged there. It was my own demons being like, 'What are you doing here mate! Stop faking it! You should not be doing this!'
But after a while, I wouldn't be nervous for a show and that was the best feeling ever, because then it was just pure fun and enjoyment. 'Think of Me' will never not terrify me though!
What is the best advice that you could give someone that is 17/18, wanting to get into performing arts?
The main thing is to not compare yourself to other people. Saying that, I do this all the time. I have best friends who post videos of themselves singing and I'm like, 'I quit'. It's so hard not to. But it will just bring you down! Just do you. Keep working at it. 9/10 you're going to get a no. I literally got a no this morning. Allow yourself 1 hour of sadness, and then you have to move on and pretend it didn't happen. Cancel and continue. Pretend it never happened and continue on with your life. Otherwise you would just sit by your phone waiting for that call!
There's always going to be another show!
Question from the audience: Are you taking singing lessons?
Yes, absolutely! You can contact me via my Instagram, details below!
---
ABOUT HOLLY-ANNE HULL
Holly is a West End professional. Theatre Credits include: Christine Daae, Phantom of the Opera. Ensemble and Cover Cosette, Les Misérables, International Tour & West End. Holly Manson, Loserville, The Union Theatre. Gladys and Cover Lola, Copacabana, UK Tour. Maid Marion, Robin Hood, Grove Theatre.
Further Credits Include: Vocalist, Shoshana Bean, Marc McBride. Featured Soloist, Sing With Scott Alan, Scott Alan. The Voice U.K. quarter finalist with her band Remember Monday.
Holly also runs singing lessons - contact her via her Instagram, @hollyannehull.